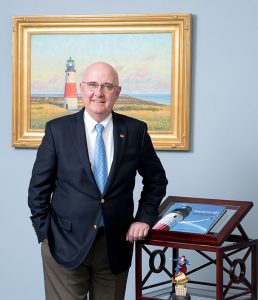 December, 2019
Dear friends, clients and professional colleagues:
I am writing to inform you about recent additions to Virginia Wills, Trusts & Estates PLC.
First, I am pleased to announce that Mark J. Nelson joined Virginia Wills, Trusts & Estates in January of 2019. Mark is a distinguished attorney who has practiced law in Charlottesville since 1994. Mark will focus primarily in estate planning and estate administration, but he also has considerable experience in tax and business matters.
Mark has a professional perspective and personal outlook similar to mine. We have been close friends for twenty-five years. We will be great colleagues.
Second, Chase B. Sandridge has agreed to accept an attorney's position at Virginia Wills, Trusts & Estates. Chase graduated from law school in May 2019 and passed the Virginia bar exam in September. For the two years prior to law school, Chase worked for Virginia Wills, Trusts & Estates as a wills and trusts paralegal. He is also married to my daughter Grace.
Wendall L. Winn, Jr. has been "of counsel" at Virginia Wills, Trusts & Estates since 2014. Wendall hired me as a trusts & estates attorney back in 1990 and was my mentor for a decade. He is an important continuing presence in the law firm and a vital friend and counselor to me, Mark and Chase.
Virginia Wills, Trusts & Estates also boasts two experienced members of its professional staff. Nancy Charlton is the law firm's office manaager, but that title hardly does her justice. Nancy has been with me since the law firm started in 2006 and we have been together as colleagues for more than twenty years. Bernadette Rumpf ("Bernie") is a full time estate administration paralegal and has worked with Virginia Wills, Trusts & Estates since 2012. Bernie is also a legal assistant to all the attorneys in the firm.
You may wonder why I chose this time to expand the law firm. That's simple – in August of 2018 I experienced a significant health setback. It made me determined to have a succession plan that my clients and my professional colleagues could rely upon. I returned to practice law on a full-time basis in November of 2018. I expect to continue to practice law full time for the foreseeable future, but bringing Mark Nelson and Chase Sandridge to Virginia Wills, Trusts & Estates could not have worked out better. I am really grateful these old friends are becoming new colleagues.
I sure appreciate your ongoing confidence in me, my colleagues and my staff.
Sincerely yours,
Thomas Nolan
Attorney-at-Law
Founder, Virginia Wills, Trusts & Estates PLC