OUR LOGO
The Sankaty Head Lighthouse on Nantucket Island has guided
sea faring travelers to safety for almost 170 years.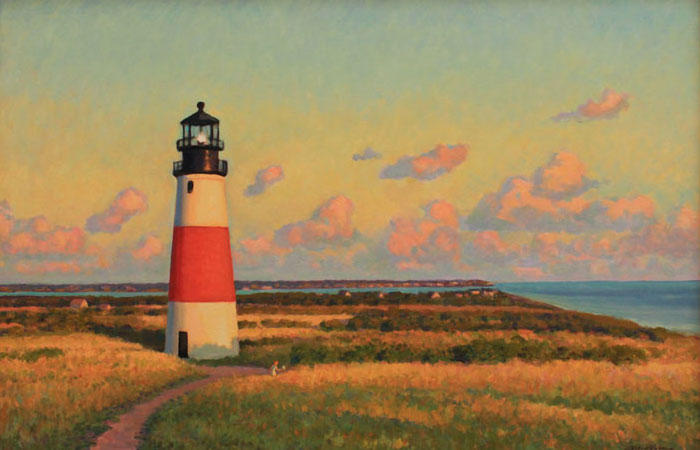 Painting by Malcom Hughes
We chose a lighthouse as our firm logo for many reasons.
First, a lighthouse leads one away from danger and towards safety. This is what we hope to achieve as estate planning professionals – to guide clients away from danger and towards family harmony in their estate planning.
Second, there is a combination of confidence, beauty, and simplicity intrinsic to a lighthouse that we hope to mirror in the services we provide.
Third, just as we are not a generic law firm, the lighthouse on our logo is not a generic lighthouse. It depicts the Sankaty Head Lighthouse located on the southeast coast of Nantucket Island near the village of Siasconset. It was built in 1849 and has been an active aid to navigation ever since. In 2007, it was moved about 400 feet from its original location – and, as a result, lost its spot on the "Doomsday List" of endangered lighthouses. Learn more about this historic lighthouse here.
The oil painting above is the work of American artist Malcolm Hughes, and it hangs in our conference room. View more of Malcolm's work here.